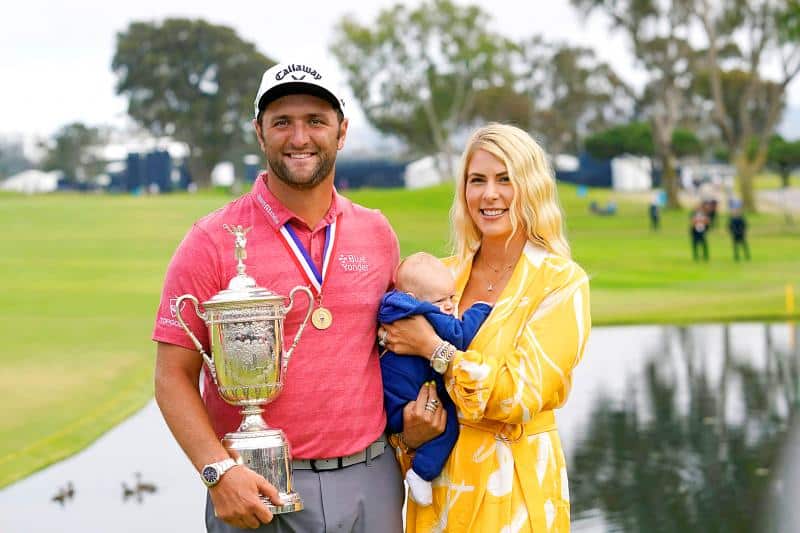 Photo: Michael Madrid, USA TODAY
Jon Rahm showed the golf world the importance of staying positive when unfortunate events happen like they did for him two weeks before his US Open win when he tested positive for COVID and had to withdrawal because of protocol after he was leading the tournament by five strokes.  Jon Rahm stated after his US Open win,  "I believe from the biggest setbacks we can get some of the biggest breakthroughs, and that's why I stay so positive," Rahm said. "That's why I kept telling Kelley — when she was devastated about what happened, and my family and everybody around me — something good is going to come. I don't know what, but something good is going to come, and I felt it today out there on the golf course."  We can learn a lot from Jon Rahm and the power of a positive self image to help our golf performance.  Jon Rahm didn't dwell on the negative effects of being forced to withdrawal but he believed in himself and his ability to move forward and achieve success in the US Open.
View this post on Instagram
Shawn Humphries has achieved more success coaching junior golfers and athletes as much as anyone in the Country.  He gets his athletes to believe in themselves and the importance of positive language and attitude.  You can have all the skill and technique to perform well but if you don't focus on the process and stay positive even when things don't go your way you will never reach your potential or perform at a high level in competition.
ATTENTION PARENTS!!
With the rise of younger people being depressed and committing suicide we have to take mental health and self image very seriously.  What parents say and do can positively or negatively impact our children's self image.  If parents only focus and talk about the negative things our kids are doing then they are going to develop a negative self image, which can have extreme consequences.
The golfers I have coached and competed against who experience the most success, all have very positive and supportive parents.  They constantly build up their child no matter how they perform and they use positive encouragement and language.  These parents let their kids figure it out with the help of their golf coach or instructor.  They don't try to fix it or blame anyone.  The worst thing a parent can do is blame their coach or make excuses for their child.  I think we all want what is best for our kids and to be successful at their sport.  It is our responsibility as parents and coaches to be positive role models and to help our kids be happy.  If they are happy and have a positive self image they are going to perform at a much higher level under pressure in competition.
"When I make people happy, that makes me happy." @matthew_wolff5 on the importance of athletes discussing their mental health.#USOpen pic.twitter.com/sGBeVpi8U6

— Golf Channel (@GolfChannel) June 19, 2021
Ideas to Improve Self Image & Happiness
Surround yourself with positive people who like to build you up and encourage you.
Limit your time on social media or news pages that are negative and may hurt your self image and steal your happiness.
Confront the negative people in your life and let them know they aren't helping and if they don't have positive things to say you are going to have to walk away.
Get enough sleep and unplug from technology at least an hour before you go to bed so you get a good night rest.
Spend at least 15 minutes per day in quiet prayer or time meditating.
Go for a 20 – 30 minute light run to clear your head and relieve stress.
Volunteer at an Organization you are passionate about and help them fulfill their mission.